Reference List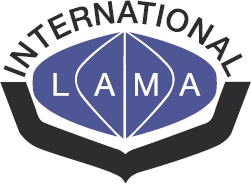 INTERNATIONAL LIFE-SAVING MANUFACTURERS' ASSOCIATION
P.O. Box 952, Shoreham-by-Sea, West Sussex. BN43 9EJ, England
Tel: + 44 (0) 1273 454187 Fax: + 44 (0) 1273 454260 Email:
admin@ilama.org
This reference list of manufacturers of lifeboats and davits reflects all known manufacturers, existing and no longer existing in alphabetical order. It should be noted that this is the first draft of the list and there may be information missing or incomplete. It would, therefore, be appreciated if any suggestions, corrections and updates are forwarded to ILAMA. admin@ilama.org
In order that the list can be updated.
For determination of the availability of service please refer to the internet website of the manufacturer.
This guarantees the most updated information on certified service in accordance with the guidelines of MSC.1/Circ.402(96). and individual requirements of IMO member states.
Any organization wishing to link into this website page is invited to contact ILAMA for details.

= ILAMA Member or Representative
Original Equipment Manufacturer (OEM)
including ex names
Member of Group/new brand name
Country of origin
Website / Contact
Remarks
Acebi

France

Acta A/S

Palfinger Marine

Denmark

Asmar

Chile

Beihai Shipyard

China

Beiyang Boatbuilding Co.

Palfinger Marine

China

Bjorke Batbyggeri

Palfinger Marine

Norway

Davit Company

Palfinger Marine

Netherlands

Davit-Company GmbH & W. Harms KG

Germany

Davit Systems Holland

Palfinger Marine

Netherlands

D-I Davit International-Hische GmbH

Germany

Denizan

Turkey

Deutsche Welin

Germany

Dongnam Marine Crane Co., Ltd

Korea

DSB

Survitec

Germany

DSME (Daewoo Heavy Industries)

Korea

Fassmer

Germany

Fassmer-Marland Ltd.

China

Fast RSQ

Palfinger Marine

Netherlands

Fiskars

Palfinger Marine

Finland

Gepa Lifeboats

Turkey

Global Davit

Germany

Ref Maritime Design Office (MDO)

Gurdesan

Turkey

Hai Hong Lifeboat Making

Fassmer-Marland Ltd.

China

Harding

Palfinger Marine

Norway

Harding AS

Palfinger Marine

Norway

Hatecke Lifeboats and Davits

Germany

Authorized to service former Robert Hatecke lifeboats.

Henriksen Hooks

Norway

HXN

China

Hyundai Lifeboats

Korea

Industrias FERRI S.A.

Spain

Jiangsu Jiaoyan Marine Equipment Co.,Ltd. (Jiangyin Xinjiang F.R.P.Co.,Ltd.)

China

Jiangyin Beihai

China

Jiangyin Norsafe F.R.P Co Ltd

Norsafe

China

Jiangyin Wolong

China

LAR (Launch and Rescue) Davits

Palfinger Marine

Germany

LSA-service GmbH

Germany

MacGregor

Germany

Mansei INC.




Japan

Maritime Partner

Norway

Maseco

Palfinger Marine

USA

Menarom P.E.C.

Rumania

Mulder& Rijke

Palfinger Marine

Netherlands

Narwhal

Spain

www.narwhal.es

Navigation's Srl

Italy

Navalimpianti

Italy

Also supplied Schat-Davit Company davits under license.

Ned-deck Marine

Palfinger Marine

Netherlands

Nishi-F

Japan

Noreq AS

Palfinger Marine

Norway

NoreqActa

Palfinger Marine

Denmark

Norsafe AS

Viking

Norway

Norwegian Deck Machinery (NDM)

Palfinger Marine

Norway

Ocean Wide Safety

Unique Group

Netherlands

Oriental Precision & Engineering Co., Ltd.

Korea

Palfinger Marine

Palfinger Marine

Austria

Pella Fiord

Russia

Pesbo

Spain

Plimsoll Davits

Singapore

Schat Davit

Palfinger Marine

UK

Also Netherlands and Germany

Schat-Davit Company

Palfinger Marine

Netherlands

Schat-Harding

Palfinger Marine

Norway

Umoe Schat-Harding

Palfinger Marine

Norway

Schat Watercraft Group

Palfinger Marine

UK

SEC

Palfinger Marine

Netherlands

Sekighara Seisakusho Ltd

Japan

Sezamor S.A.

Poland

Shigi

Japan

Silverdale

Viking Norsafe

Malaysia

Survival Craft Inspectorate

Survitec Survival Craft

UK

Survival Systems International

USA

Survival Systems International

UK

Tecnimpianti

Navalimpianti

Italy

Also supplied Schat-Davit Companys davits under license.

Towimor

Poland

Tsuji Heavy Industries

Japan

Tsuneishi

Japan

UFAS

Maritime Partner

Norway

Ulstein Fama Sp. z.o.o.

Fama Gniew

Poland

Ustka Shipyard

Poland

Vadyar Boats

India

Vanguarde Pte Limited Singapore and Vanguarde ( Nantong ) FRP Company Ltd

Singapore

Verhoef Alu

Netherlands

Vestdavit

Norway

Viking Life-saving Equipment

Denmark

Viking Marine

Palfinger Marine

UK

Watercraft Hellas

Viking

Greece

Watercraft International

Palfinger Marine

UK

Watercraft Ltd

Palfinger Marine

UK

Watercraft USA

Palfinger Marine

USA

Waterman

Palfinger Marine

Finland

Ex. Fiskars

Whittaker Corp.

USA

William Mills

Palfinger Marine

UK

Wuxi Dongwu Marine Equipment Co., Ltd.

Fassmer-Marland Ltd.

China

Wuxi Hai Hong Lifeboat Making

Fassmer-Marland Ltd.

China

Xervo A/S (Nadiro A/S)

SH-Group

Denmark

Yuksel Eng

Turkey

Zhenjian Marine Auxiliary Machinery Works

China

Zodiac International

Survitec Zodiac

France